Grand Prix Raceway
Please Help Walt Dated World
You can help support the Walt Dated World website in several different ways. Subscribe to and continue to watch the Walt Dated World YouTube channel, contribute via any PayPal button on the site or shop using the Amazon search box at the bottom of each page. Proceeds fund the continued operation of the site. Thank you!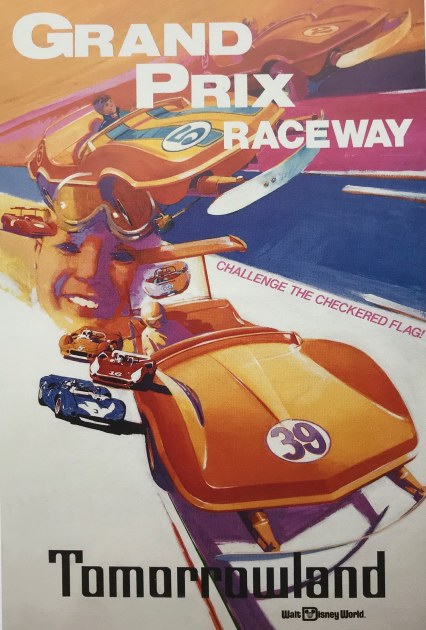 Tomorrowland's Grand Prix Raceway was an opening day attraction based on Disneyland's Autopia and originally required a C coupon. It was sponsored for many years by Goodyear and the cars featured Goodyear tires. The 160 Mark VII cars for the attraction were designed by Bob Gurr and were built in 1967 in tandem with the new cars for Disneyland's Tomorrowland remodel. The design of the cars echoed that of the Corvette Stingray. Grand Prix Raceway was given a new name on September 28, 1996 and became known as the Tomorrowland Speedway. In 1999 it became known as the Tomorrowland Indy Speedway and had an Indianapolis 500 theme before reverting to the Tomorrowland Speedway name in 2009.
Track Changes
The track has been shortened several times throughout the years. The original configuration can be seen above. It was first changed for the construction of Space Mountain, as seen below. The second time the track was shortened was during the construction of
Mickey's Birthdayland
. In 2012 the track had to be shortened again for the relocation of
Dumbo, the Flying Elephant
during the New Fantasyland expansion. The track was modified again in 2019 in preparation for Tron Lightcycle Power Run.
Licenses
The Grand Prix Racing Team licence below was "signed" by Charles J. Pilliod Jr, who served as the CEO of Goodyear from 1974 to 1983. Pilliod spearheaded the retooling of Goodyear factories to produce radial tires, which led to their acceptance in the US. Licenses are still given out occasionally and usually feature Mickey Mouse and the Tomorrowland "gear" logo on them.
Grand Prix Photo Gallery
Notice the Skyway "dog leg" turn in the background of this photo.
This is an unofficial fan site that is not affiliated with the Walt Disney Company or Disney theme parks. All copyrights acknowledged. Please respect the work I put into compiling both existing and my own information on this site by not linking to any text or pictures without crediting that they were located on this site.
See ya real soon!