Lake Buena Vista Club Recipes
Please Help Walt Dated World
You can help support the Walt Dated World website in several different ways. Subscribe to and continue to watch the Walt Dated World YouTube channel, contribute via any PayPal button on the site or shop using the Amazon search box at the bottom of each page. Proceeds fund the continued operation of the site. Thank You!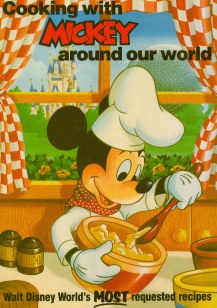 Appetizers
Les Huitres Sautees en Barquette
(Sautéed Oysters)
Yield: 2 servings
1 can (8 ounces) canned 1/2 tablespoon finely chopped garlic
oysters 1/3 cup Chablis wine
1/2 cup flour 1/8 teaspoon Worcestershire sauce
1 egg, slightly beaten 1/4 cup chopped fresh parsley
1/2 cup dry bread crumbs 2 bread gondolas (see recipe below)
1/2 cup butter
1 tablespoon finely chopped
shallots
Drain oysters. If there are small pieces of oyster, put them together with larger oysters to make the equivalent of 12 oysters. Dredge with flour, dip in beaten egg and then in crumbs. Let dry on Wax paper 10 minutes.
To cook, heat butter in a good sized skillet and fry breaded oysters, quickly, turning to brown both sides. Remove from skillet and keep hot.
Add shallots and garlic and cook for 2 or 3 minutes. Deglaze skillet with Chablis, scraping any crust from bottom. Add Worcestershire sauce and parsley to skillet. Arrange oysters in bread gondolas and pour sauce over oysters.
Bread Gondolas
Cut 2 slices 2 inches thick from unsliced bread. Cut off crusts using a very sharp knife and hollow out center, leaving sides and bottom about 1/2 inch thick.
Brush with melted butter. Toast at 375 F until lightly browned, 10 to 15 minutes.
Soups
Florida Chilled Citrus Soup
Yield: 20 6-ounces servings
10 cherries, stemless and seedless 1/4 whole lemon (rind left on, seeds removed)
2 cups canned peach slices 1/3 whole orange (rind left on, seeds removed)
2 cups canned figs 1 quart fresh orange juice
1 cup strawberries, hulled and washed 1/3 cup grenadine syrup
3/4 teaspoon cinnamon 1 cup sugar
2 cups water 1 teaspoon vanilla extract
1 quart orange sections
Combine cherries, peaches, figs, strawberries and cinnamon in food processor with steel blade. Process until pureed. Put into a large stainless steel or glass container and add water. Put orange sections in processor and puree. Add to fruit mixture. Process lemon and orange to fine texture and add to fruit in container. Stir in remaining ingredients. Chill from two hours or longer before serving.
Makes 1 gallon or 20 6-ounce servings. Refrigerate any unused portion.
NOTE: This recipe may be divided. It may also be frozen.
Avocado Soup
Yield: 1 quart
1 small onion 4 teaspoons instant chicken bouillon
2 cloves garlic 2 ripe avocados
1 teaspoon salt 2 ripe tomatoes
3 tablespoons lemon juice 1/4 cup dairy sour cream
1/16 teaspoon Tabasco 2 cups half and half
1 1/2 teaspoons Worcestershire sauce Additional dairy sour cream
Cut onion into quarters. Put with garlic, salt, lemon juice, Tabasco, Worcestershire sauce and bouillon in the food processor with steel blade. Process until smooth. Peel avocado, cut in pieces, and add thorough chute. Peel and cut up tomatoes and add through chute. Process until smooth. Pour into a bowl and stir in 1/4 cup sour cream and half and half. Chill well. Serve with a spoonful of sour cream.
NOTE: If a thinner soup is desired, thin with a well flavored chicken broth.
French Onion Soup
Yield: 1 quart
2 cups sliced Spanish onions 1/4 teaspoon granulated garlic powder
2 teaspoons margarine or salad oil 1/8 teaspoon yellow food coloring
2 3/4 cups water 1/4 teaspoon caramel food coloring
3 beef bouillon cubes 1 tablespoon dry sherry
2 chicken bouillon cubes Croutons
1/8 teaspoon white pepper Parmesan cheese
Salt to taste
Sauté onions in margarine or oil in a heavy 6-cup saucepot until golden brown, stirring often. Add water, bouillon cubes, pepper, salt if needed, garlic powder and food colorings. Bring to a boil and simmer, covered, 10 to 15 minutes. Add sherry and cook 2 minutes longer. Serve topped with croutons and grated Parmesan cheese.
This is an unofficial fan site that is not affiliated with the Walt Disney Company or Disney theme parks. All copyrights acknowledged. Please respect the work I put into compiling both existing and my own information on this site by not linking to any text or pictures without crediting that they were located on this site.
See ya real soon!