Farmers Market Recipes
Walt Dated World Needs Your Help!!! (01/17/2018)
The WaltDatedWorld channel has been on YouTube for 10+ years and has been in the YouTube Partner Program for the past several years. The channel has had thousands of hours of watch time in the past year and has never posted any inappropriate content.
The Partner Program provides funds that are critical to paying the hosting charges for the waltdatedworld.com website. Since the channel serves a small but devoted niche, there are currently not enough subscribers needed to meet the program threshold (there is also a watch time threshold but that has been met).
The channel has until February to get 700+ subscribers. Please subscribe to the WaltDatedWorld YouTube channel. If everyone that visits the website or follows the Walt Dated World Facebook or Twitter feed either subscribed or shared a link with their friends to subscribe, the goal could be exceeded in one day. Share and encourage others to do so. Please help a small niche creator who has done nothing wrong but has been wronged by the decisions of a large conglomerate. You can get to the channel from any page on the site by clicking the icon on the top upper left of each page. Thank you.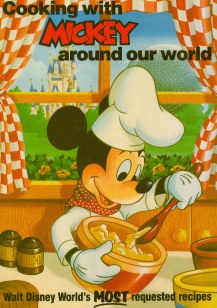 Soups
Chicken Gumbo
Yield: 3 1/4 quarts
2 tablespoons margarine or 1 1/4 cup cooked rice
chicken fat 2 tablespoons cornstarch
1/2 cup diced onion 2 tablespoons water
1/4 cup all-purpose flour 1 1/2 cups sliced fresh okra
3 quarts chicken stock or 1 package (10 ounces)
3/4 pound (1 1/2 cups) diced sliced frozen okra, thawed
skinless raw chicken Salt and white pepper to taste
1/2 cup diced smoked ham
Heat margarine or chicken fat in large saucepot. Sauté onions until tender. Add flour; cook and stir 5 minutes. Blend in chicken stock and bring to a boil. Reduce heat to simmer and mix in chicken, ham and rice. Simmer 5 minutes to cook chicken. Dissolve cornstarch in water. Return soup to a boil and stir in cornstarch. Add okra and salt and pepper to taste and simmer until okra is cooked, about 5 to 7 minutes.
This is an unofficial fan site that is not affiliated with the Walt Disney Company or Disney theme parks. All copyrights acknowledged. Please respect the work I put into compiling both existing and my own information on this site by not linking to any text or pictures without crediting that they were located on this site.
See ya real soon!