Sunrise Terrace Recipes
Please Help Walt Dated World
You can help support the Walt Dated World website in several different ways. Subscribe to and continue to watch the Walt Dated World YouTube channel, contribute via any PayPal button on the site or shop using the Amazon search box at the bottom of each page. Proceeds fund the continued operation of the site. Thank you!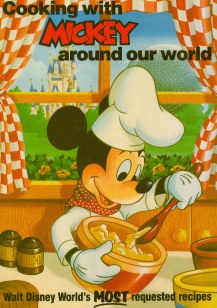 Soups
Corn Chowder
Yield: 8 cups
1/2 cup margarine 1 can (16 or 17 ounces) whole kernel corn, undrained
1/2 cup finely chopped onion 3 cups hot milk
6 tablespoons flour 1 tablespoon sugar
4 chicken bouillon cubes 1/4 teaspoon white pepper
2 1/2 cups hot water
1 1/2 cups cubed cooked potatoes
Heat margarine in a large saucepot and cook onion until tender but not brown. Add flour; cook and stir for 5 minutes over low heat. Do not brown. Add bouillon cubes and hot water, stirring with a wisk to blend. Simmer for 5 minutes. Add remaining ingredients and bring to the boiling point.
This is an unofficial fan site that is not affiliated with the Walt Disney Company or Disney theme parks. All copyrights acknowledged. Please respect the work I put into compiling both existing and my own information on this site by not linking to any text or pictures without crediting that they were located on this site.
See ya real soon!