Disney Inn Recipes
Please Help Walt Dated World
You can help support the Walt Dated World website in several different ways. Subscribe to and continue to watch the Walt Dated World YouTube channel, contribute via any PayPal button on the site or shop using the Amazon search box at the bottom of each page. Proceeds fund the continued operation of the site. Thank you!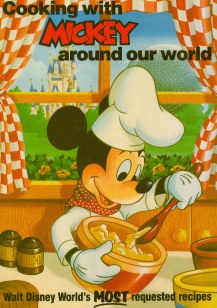 Beverages
Banana Bogey
Yield: 1 serving
1 glass (8 ounces) crushed ice 1/2 peeled banana, sliced
2 ounces light rum 1/2 ounce rock candy syrup*
1 ounce creme de banana Straw
Blend all ingredients in a blender. Serve in an 8-10 ounce tall glass with a straw.
*Can be purchased where bar supplies are sold.
Caddy Cooler
Yield: 1 serving
1/2 cup orange juice 1/2 cup crushed ice
2 tablespoons pineapple juice Fresh mint sprig or
2/3 cup (6 ounces) frozen half an orange slice
strawberries Straw
Mix juices, strawberries and crushed ice in a blender for 15 seconds.
Serve in a 12-ounce glass. Garnish with mint sprig or half an orange slice. Serve with a straw.
NOTE: This recipe may be doubled in a blender for 2 servings.
Appetizers
Oysters Rockefeller
(Fresh Oysters Topped with Chopped Spinach and Mornay Sauce)
(This was also served at the Lake Buena Vista Club)
Yield: 4 servings
For 2 dozen raw oysters on the half shell, prepare the following amounts of Spinach Stuffing and Mornay Sauce.
Mornay Sauce
1 1/2 tablespoons melted butter 2 tablespoons grated Parmesan cheese
1 1/2 tablespoons flour 2 tablespoons cold butter, cut in small pieces
1 1/2 cups milk, heated
2 egg yolks
1/4 teaspoon salt
Combine melted butter and flour in a small saucepan and cook over low heat 6 to 8 minutes, stirring (do not brown). Add hot milk and stir until slightly thickened and smooth. Combine with egg yolks, beating well. Add salt. Cook for 2 minutes over very low heat, stirring constantly.
Remove from heat and add Parmesan cheese. Stir in butter a few pieces at a time until fully blended. Keep warm over hot, not boiling water. Makes 1 2/3 cups. If desired, Mornay Sauce may be prepared in advance. Refrigerate covered. When ready to assemble, reheat sauce over hot water.
Spinach Stuffing
1/4 cup chopped onion 1/4 teaspoon salt
1 tablespoon butter 1/4 teaspoon nutmeg
1 package (10 ounces) frozen 1 tablespoon Pernod or anisette
chopped spinach
1/4 cup coffee cream or half
and half
Sauté chopped onions in butter until golden brown. Add spinach and cook slowly for 10 minutes, stirring occasionally. Blend in cream, salt, nutmeg and Pernod. Makes 1 1/3 cups.
To Prepare Oysters Rockefeller
With a sharp knife cut oysters from shell. Leave oysters in shell. Top each with about a tablespoon of spinach stuffing, then with about the same amount of Mornay Sauce. Sprinkle with additional grated Parmesan cheese. Place on a baking sheet and bake at 400 F for 15 minutes until nicely browned. Serve very hot. Make 4 servings, 6 oysters each.
NOTE: If desired, oysters may be placed on a 1/2-inch thick bed of course salt for baking.
This is an unofficial fan site that is not affiliated with the Walt Disney Company or Disney theme parks. All copyrights acknowledged. Please respect the work I put into compiling both existing and my own information on this site by not linking to any text or pictures without crediting that they were located on this site.
See ya real soon!