Millennium Celebration/Millennium Village
Please Help Walt Dated World
You can help support the Walt Dated World website in several different ways. Subscribe to and continue to watch the Walt Dated World YouTube channel, contribute via any PayPal button on the site or shop using the Amazon search box at the bottom of each page. Proceeds fund the continued operation of the site. Thank You!
Walt Disney World celebrated the coming of the year 2000 and the Millennium in a big way. The official start to the festivities began on October 1, 1999. All of the parks participated in the "Celebrate the Future Hand in Hand" theme with special decorations and merchandise. Magic Kingdom, the Disney-MGM Studios and Animal Kingdom promoted "new" offerings that had actually opened in 1999, such as The Many Adventures of Winnie the Pooh, Rock 'n' Roller Coaster, Sounds Dangerous, Doug Live! and Tarzan Rocks!
Millennium Celebration at Epcot
Spaceship Earth Makeover and Leave a Legacy
Epcot was the main focus of the Millennium Celebration and numerous events were held throughout the park. Spaceship Earth got a makeover with the giant numerical "2000" and 116-foot Mickey hand. This polarized some Disney park fans, even more so when the 2000 was later changed to say "Epcot" after the celebration was over. Another controversial addition was Leave a Legacy, where guests could pay to have pictures of themselves etched on stone monoliths in the entrance plaza in front of Spaceship Earth. Participants would receive a silver folder containing their photo on a plastic transparency with the location of their tile. They would also receive a card with a now-defunct website to access their photo. Some long time visitors likened it to a "graveyard" and complained that it made the plaza cramped and ruined park sightlines. Despite this, Epcot continued to sell images until June 16, 2007. For those wishing to locate their photo, a tile locator station is inside the Camera Center or visitors can e-mail WDW.EC.legacy@disney.com.
Pin Trading and Entertainment
Pin Trading was heavily promoted during the event. A new pin was issued every day of the celebration and many pin trading events and seminars were held at "Millennium Central" near the information kiosk. Guests could also get a special "Postmark Epcot" cancellation near the pin trading area.
World Showcase got its first parade since the short-lived
World Showcase Parade
with
Tapestry of Nations
as well as a new night show:
IllumiNations 2000: Reflections of Earth
. Tapestry of Nations was later revamped into a parade called
Tapestry of Dreams
and Illuminations dropped "2000" from the name once the year was over.
Epcot also hosted the Millennium Culinary Series at the former
Odyssey Restaurant
. A different country would periodically be featured and a visiting chef would create a four course dinner. Entertainment was also offered and there was a special viewing area for IllumiNations.
Millennium Village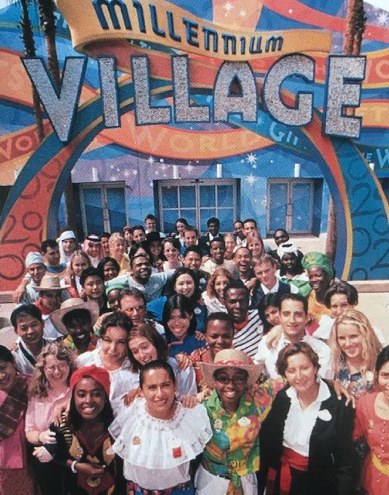 Millennium Village was a new pavilion that was between Canada and the United Kingdom. It featured exhibits from countries that did not previously have a World Showcase presence. The actual building is still there but it is now used as a backstage area. Since 2001 it has been referred to as World Showplace and is sometimes used for special events. Highlights included:
BRASIL: Visit the Amazon Rain Forest, experience Carnaval, and play a cyber-version of soccer. Presented by Varig and Embratur.
SCOTLAND: Learn how Scotland has contributed to world culture as you play miniature golf. Presented by Scotland the Brand and Scottish Enterprise.
SAUDI ARABIA: Take a virtual tour and hear stories from the past. Presented by the U.S.-Saudi Arabian Business Council.
ERITREA: Take part in a traditional coffee ceremony with representatives from this East African nation. Presented by The State of Eritrea, Ministry of Tourism.
SWEDEN: Walk through four 30-foot tall eggs that recreate the seasons in Sweden. Presented by ABB, Skandia, and The Kingdom of Sweden.
CHILE: Discover how Chileans harvest fog for drinking water and see the "Moai of Peace". Presented by the Wine Association of Chile.
ISRAEL: Walk down a recreation of an ancient street paved with real Jerusalem stone. Presented by Ministry of Foreign Affairs, State of Israel.
You could also sample food and buy mementos from around the world. The World Showplace featured Tivoli Gardens puppet shows from Denmark, as well as other live performances and a video tour of Venezuela. Artisans from countries such as Lebanon, Peru, Thailand, Egypt, Greece and South Korea worked inside a yurt structure from the Kyrgrz Republic.
This is an unofficial fan site that is not affiliated with the Walt Disney Company or Disney theme parks. All copyrights acknowledged. Please respect the work I put into compiling both existing and my own information on this site by not linking to any text or pictures without crediting that they were located on this site.
See ya real soon!