CommuniCore East and West
Please Help Walt Dated World
You can help support the Walt Dated World website in several different ways. Subscribe to and continue to watch the Walt Dated World YouTube channel, contribute via any PayPal button on the site or shop using the Amazon search box at the bottom of each page. Proceeds fund the continued operation of the site. Thank you!
CommuniCore (short for Community Core) was actually two buildings to the east and west of
Spaceship Earth
. Both featured technology exhibits and served as additional space for pavilion sponsors such as Exxon, Bell System/AT&T and American Express to showcase their companies. Sponsor Sperry Univac (later known as UNISYS) did not sponsor a stand alone pavilion like the others but did provide the computer systems for EPCOT Center. Stargate Restaurant and the
Centorium
shop were part of CommuniCore East while Sunrise Terrace Restaurant was part of CommuniCore West.
The two buildings were not totally symmetrical with each other. They were designed so they could be expanded outward if needed. One idea that was proposed but never built was a
WEDway PeopleMover
loop that went through Future World and through both CommuniCore buildings on the second floor. This explains why the ceilings were so high in the interior hallways. CommuniCore East and West closed on January 31, 1994 and were remodeled into Innoventions in July of 1994.
CommuniCore West:
CommuniCore West had four main areas, FutureCom, Expo Robotics and the Epcot Outreach and Teacher's Center Areas. Like Spaceship Earth, FutureCom was originally presented by the Bell System (later AT&T).
FutureCom
FutureCom was dominated by two large kinetic sculptures. The Fountain of Information installation was located by the entrance and composed of all manner of communication forms, such as books, blinking neon lights, vinyl records, street signs, film and much more. The Age of Information kinetic sculpture was done in a more whimsical style.
Although the artwork focused on the future according to a phone company, it was remarkably prophetic for depicting things such as electronic mail, voice mail and computers being used by the health and banking industries. The Age of Information also included a Mickey Mouse clock, which was one of the few places to see Mickey in EPCOT Center before the characters made regular appearances in the park.
FutureCom included WorldKey terminals, as the system was created by Bell/AT&T. Other exhibits included:
A-Mazing Microchip would enable children to go through a maze that was just their size.
Chip Cruiser, which let guests fire at "contaminants" before "they affected long distance service."
Electronic Finger Paint allowed guests to make a digital masterpiece.
Face To Face demonstrated video conferencing.
Network Control, where guests could learn on a large map how phone companies control traffic on a long distance network.
Phraser would speak words that guests typed out on a keyboard.
Scramblin' Faces was a game where your picture would be made into a slide puzzle to solve.
Expo Robotics
Located at what was originally going to be the Tron Arcade, this robot demonstration area opened February 13, 1988. Robotic arms named Pixel and Ironside performed tricks with spinning tops, such as balancing them on a sword blade and on a length of string. Other robots could draw pictures of a guest's face from a video monitor or draw Disney characters on T-shirts. Expo Robotics closed on October 3, 1993.
Epcot Outreach and Teacher's Center
Epcot Outreach opened May 26, 1983 and was home to a research librarian that could answer questions about any topic in Future World and World Showcase. The nearby Teacher's Center offered lessons based on Future World themes for all grade levels. Once Innoventions opened, both of these places moved and became known as the Epcot Discovery Center.
CommuniCore East:
CommuniCore East consisted of four main areas (Computer Central, Travelport, Energy Exchange and Electronic Forum.) EPCOT Computer Central featured a look at the actual computers that ran things in the park such as the Audio-Animatronics and the reservation system. The 1985 film "D.A.R.Y.L." was filmed among all the computers on the main floor of Computer Central.
American Express Travelport
In addition to being one of the sponsors of The American Adventure, American Express also presented the Travelport. Guests could visit one of the touch-sensitive screens here and preview a vacation anywhere in the world. American Express Travel Service could then help you plan your next trip, provide services to cardholders and sell traveler's checks. American Express was the official charge card of Walt Disney World during this time. The Travelport was at CommuniCore East from opening day to April 27, 1992.
EPCOT Computer Central
EPCOT Computer Central was presented by Sperry Univac (later known as UNISYS). Sperry was the official computer supplier for EPCOT Center. The tagline in their advertising around the time of Opening Day was "We Understand How Important it is to Listen". This probably was one reason for the name of the Astuter Computer Revue, as "astute" is defined as "having or showing an ability to accurately assess situations or people". A kinetic installation in this area featured an analog population counter with wooden people circling around it.
The Astuter Computer Revue and Backstage Magic
The Astuter Computer Revue (some sources list it with the last word spelled as "review") was designed to make computers seem accessible to every day users. It starred Ken Jennings as "Earlie the Pearlie" and featured him singing and dancing about the computers that ran Epcot. Jennings appeared at the dedication ceremony for CommuniCore held on October 18, 1982 and sang the show's theme song live. The show ran from opening day to January 2, 1984 and holds the distinction of being the first attraction to be removed from Epcot. The song featured in the show was called "The Computer Song" and was written by the Sherman Brothers. The theme was featured on the very first Epcot soundtrack album that was released in 1983.
Backstage Magic replaced The Astuter Computer Revue on February 4, 1984. Like its predecessor, it explained how computers were used at Walt Disney World and gave a look at them in action. The preshow area also featured an animated history on computers. The show was hosted by Julie and an animated energy ball named I/O (Input/Output) . Like Earlie the Pearlie, Julie would walk on the computers utilizing a "Pepper's Ghost" effect. A separate Pepper's Ghost effect would show how computers controlled movement for Mr. Eggz for
The Kitchen Kabaret
show. Backstage Magic closed on October 1, 1993.
"The Computer Song"
You see my friends, the computer make life easier.
Saves me time and headaches too.
He sorts things out, analyses in a shake.
My enormous problem, to him's a piece of cake!
He's got a great big memory like an elephant.
Utilizes knowledge without end.
That's why I'm a rooter, for me computer.
Everybody needs a friend!
When my work piles up, and I'm seein' red,
'cause I need five arms and an extra head,
I find the computer, becomes me trouble shooter.
He keeps miles and miles of facts on file.
My wish, is his command.
Nothing is astuter than a computer, when I need a helping hand.
Let me explain:
They keep on top of accommodations,
record and update reservations.
Coordinate telephone operations,
and help plan energy conservation.
They're really a great financial device,
payroll service is kept precise.
They protect attendance then give advice,
on personnel, food and merchandise.
They're constantly focusing all their attention,
on matters of safety and fire prevention.
They've given efficiency new dimension,
with numerous examples, too many to mention!
(Stops to gather breath.)
And that's why I'm a rooter, for me computer.
Everybody needs a friend!
You see my friends, the computer does the drudgery,
leave me free for better things.
I push some buttons, and in a half a mo',
What was a sticky wicket, becomes an easy go!
He's got a great big memory like an elephant.
How he works is hard to comprehend.
Complicated computations take him just a tick,
he coordinates and tabulates, and does it double quick!
And that's why I'm a rooter, for me computer.
Everybody needs a friend!
(Computers applaud.)
No need to stand! No need to stand!
Thank you! Thank you one and all!
Games at Computer Central (The Manufactory)
Compute-A-Coaster: Way before the Roller Coaster Tycoon computer game and CyberSpace Mountain at Disney Quest, this game allowed guests to design a roller coaster ride on a computer with the help of a beaver who sounded similar to the one in Lady and the Tramp (or Gopher from Winnie the Pooh).
Flag Game: Design an American flag on a computer as patriotic music plays.
Get Set Jet Game: Try to load passengers and luggage on a plane and complete the safety checklist within 60 seconds.
Great American Census Quiz: Located near the population counter kinetic artwork, guest could choose a topic from the touch-sensitive TV screen and answer questions about America.
SMRT-1: Guests could communicate with this computer through a telephone set. He (She?) would ask questions to try and guess the guest's birth month and would laugh if the answer wasn't correct.
SMRT-1 caught on camera by Brotherdave
Electronic Forum
Electronic Forum (Epcot Poll): This attraction opened on December 23, 1982. Guests entered the Future Choice theater and watched short films about current events. After the watching the clips, viewers could press the buttons on the seat armrests and take part in a poll with the results being instantly tabulated. The Forum closed on March 16, 1991 and the preshow area was used for the World News Center starting the very next day.
Person of the Century: This was launched on January 14, 1990. You could cast your vote from 89 nominees or write in your own choice. At one point, some of the top nominees included Lucille Ball, Winston Churchill, Marie Curie, Thomas Edison, Mikhail Gorbachev, Michael Jackson, Martin Luther King, Jr., and Mother Theresa. The poll was discontinued before 2000 and no final winner was ever announced.
World News Center: Located in the preshow area of the former Electronic Forum, it consisted of TV monitors that showed news stories. It opened March 17, 1991 and closed in the spring of 1996.
Energy Exchange
The Universe of Energy did not have a post show area that featured Exxon research and technology. Instead, the company sponsored the Energy Exchange section of CommuniCore East, right near part of the indoor seating area of the Stargate Restaurant. Amid kinetic sculptures like a windmill, activities included pedaling to see how much power you could generate compared to a gallon of gasoline, using a handheld crank to illuminate a light bulb, a model of an oil drilling platform, and sections to learn about coal and other energy topics.
Gyro the Robot and Gero the General Electric Robot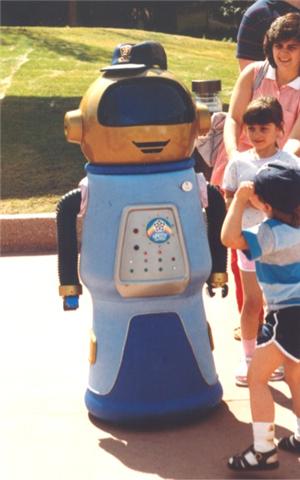 This photo was sent by Carmen, who took it in February of 1988. Gyro was operated by a Cast Member backstage and could talk and interact with guests. Gero was smiling robot who rode a scooter/sled type vehicle. He had a GE logo on his chest and would appear near Horizons.
CommuniCore Tributes and Merchandise
It's a little hard to see in this picture, but the carpeting in the south part of the breezeway of Innoventions West has the old CommuniCore icon on it. The outside of the two Innoventions entrances used to also contain the old icon. There was not much vintage merchandise that featured CommuniCore beyond a postcard. There were some pins and patches produced many years later, as well as a Vinylmation figure of SMRT-1.
This is an unofficial fan site that is not affiliated with the Walt Disney Company or Disney theme parks. All copyrights acknowledged. Please respect the work I put into compiling both existing and my own information on this site by not linking to any text or pictures without crediting that they were located on this site.
See ya real soon!