Unbuilt Epcot Future World Concepts
Please Help Walt Dated World
You can help support the Walt Dated World website in several different ways. Subscribe to and continue to watch the Walt Dated World YouTube channel, contribute via any PayPal button on the site or shop using the Amazon search box at the bottom of each page. Proceeds fund the continued operation of the site. Thank You!
Walt Dated World Presents:
Walt Deleted Word
Epcot: Future World
Almost everyone knows that EPCOT Center was originally designed as a city where people lived and worked. There are many concept paintings from this version of Epcot but Walt Deleted World's focus is on Epcot as a theme park and the attractions that were never built for it. The original idea for Epcot was carried out in a somewhat modified form at the town of Celebration.
Tron Arcade
This was going to be built in CommuniCore West but it was never constructed.
(Thanks to Mark Thompson for the photo.)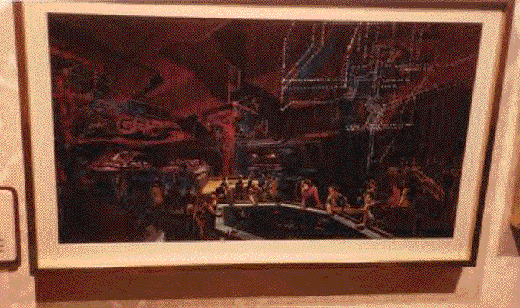 The Living Seas
The beginning of the Living Seas preshow was originally designed to start out in a cave-like area. Guests were supposed to be made to feel like a storm was coming. The walls of the grotto would close in and Poseidon, the Greek God of the sea would appear as lightening flashed. He was then supposed to serve as a narrator until guests reached the coral reef.
This is an unofficial fan site that is not affiliated with the Walt Disney Company or Disney theme parks. All copyrights acknowledged. Please respect the work I put into compiling both existing and my own information on this site by not linking to any text or pictures without crediting that they were located on this site.
See ya real soon!