Neon Armadillo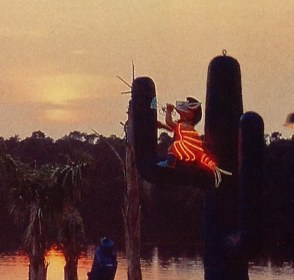 This was one of the original Pleasure Island clubs and was also referred to as the Neon Armadillo Music Saloon. According to Island legend, the building was once a greenhouse for desert plants collected by Merriweather Pleasure. When the building was rediscovered, it had been taken over by a family of armadillos. During the club's debut year, it was advertised as the "Hot little cool down saloon" and featured "the greatest young rising country music stars". The club was located next to The Adventurers Club and across from The Comedy Warehouse. The Disneyland Hotel also joined the country music bandwagon around this time with a similar club called the Neon Cactus.
The Neon Armadillo was generally open from 6:00 PM-2:00 AM and it was all ages, although ages 17 and under had to be accompanied by an adult. The decor included a big brass chandelier in the shape of a spur and inlaid wood tables with a Navajo blanket design. Two short-lived food bars offered fajitas made from chicken, beef and seafood. Other food served during the early years included pickled eggs, sausages and pepperoni. Snacks in later years included nachos. Merchandise available from the club included a coffee mug, t-shirt, keychain and at least two different styles of baseball caps.
An ABC television special called The Best of Country '92: Countdown at the Neon Armadillo aired on December 10, 1992. Despite the name of this show, it was actually filmed in Nashville. This was later followed by a syndicated show called Countdown at the Neon Armadillo which aired from September 17-December 12, 1993. This show was filmed both at the Neon Armadillo and also at the 328 Club in Nashville.
In 1994, the club hosted a dance contest called "Two-Steppin' Across America" where weekly winners had a chance to compete in a national competition at the club. Other events during this time included line dancing lessons every Sunday night. Entertainment through the years was offered by performers such as Dave Durham (The voice of Wendell and Liverlips in the Vacation and Christmas Country Bear shows) & The Fabulous Bull Durham Band, Rodeo Drive and Randy Staton & HipShot. After celebrating events such as Bike Week in March of 1997, The Neon Armadillo closed the following year and was replaced by the BET Soundstage Club. The closing of Neon Armadillo coincided with the opening of another country-inspired club in Pleasure Island, an offshoot of the Nashville-based Wildhorse Saloon. This club lasted until 2001.
Back
to Pleasure Island/West Side
This is an unofficial fan site that is not affiliated with the Walt Disney Company or Disney theme parks. All copyrights acknowledged. Please respect the work I put into compiling both existing and my own information on this site by not linking to any text or pictures without crediting that they were located on this site.
See ya real soon!