Disney Shopping in the 1990s
Please Help Walt Dated World
You can help support the Walt Dated World website in several different ways. Subscribe to and continue to watch the Walt Dated World YouTube channel, contribute via any PayPal button on the site or shop using the Amazon search box at the bottom of each page. Proceeds fund the continued operation of the site. Thank you!
The Third Decade: 1996 Snapshot
Shops
2R's Reading and Riting: This shop was now located in the former Village Gifts/Spirits building and was serving coffee among the books.
The Art of Disney: Located in the former location of Village Gifts and Sundries and connected to 2R's Reading and Riting, this gallery sold animation art and other Disney art. Country Address used to be in this location at one point also.
Character Kids Tower: The former Captain's Tower became a sales location for character clothes and costumes for children.
Christmas Chalet: Relocated to the former Artespana, this shop would later move again and become Disney's Days of Christmas.
The City: This trendy clothing store for men and women featured brands like Mossimo, Stussy, Yaga, Paris Blues, Steel, Guess, My Michelle and No Fear and was in the former location of It's a Small World After All.
Discover: Located in the old location of 2R's Reading and Riting, this shop featured nature gifts. Despite the store name, American Express was the official card of Walt Disney World during this time, although Visa, MasterCard and Traveler's Checks were also accepted.
EUROSpain: Still sponsored by Arribas Brothers and featuring crystal cutters, this was the new name for the Cristal Arts shop.
Gourmet Pantry: Disney was listing this as both a shop and restaurant in 1996 park guides. The store portion featured cooking gadgets and wine.
Harrington Bay Clothiers: Located near the Tower, this men's clothing store was decorated to look like a Bermuda plantation home and featured apparel by Polo, Nautica and Tommy Hilfiger. The shop opened March 23, 1992 and closed July 15, 2001.
Resortwear Unlimited: In addition to women's sportswear, this shop was now selling Lancome products.
Summer Sands: This shop that sold Florida gifts superseded Village Gifts and was located in the former location of Toys Fantastique.
Team Mickey's Athletic Club: This sports shop replaced Shoe Time, Country Address and Mickey & Co on April 19, 1987 and closed in January of 2014.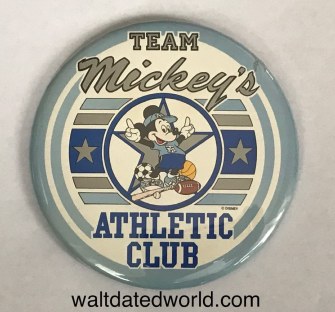 Toys Fantastic: Opened in August of 1992, this shop relocated in 1996 next to Mickey's Character Shop. Mattel was now the sponsor and the shop featured brands such as Hot Wheels and Barbie. At one point there was also a full size Teenage Mutant Ninja Turtles video game available to play in the store. With Once Upon a Toy on the horizon and Mickey's Character Shop preparing to close for World of Disney, this shop's days were numbered and it closed in 2002 to be replaced by Summer Sands.
World of Disney: This massive Disney superstore replaced Mickey's Character Shop.
You and Me Kid: This shop opened in 1988 and was named after an early Disney Channel show. It featured toys and clothes for infants through preteens. It was connected to Toys Fantastique and the Christmas Chalet and while the 1996 Birnbaum guide listed the store, it had actually closed in 1995.
Restaurants
Cap'n Jack's Oyster Bar
Donald's Dairy Dip: This was the new name for the Village Ice Cream Parlour.
Fulton's Crab House: Opened in late spring of 1996 and replaced all the restaurants in the Empress Lilly.
Goofy's Grill: This fast food restaurant served burgers, fries and shakes.
Gourmet Pantry: The food portion of the store served pastries, coffee, salads and sandwiches.
Minnie Mia's Italian Eatery: Located in the former Heidelberger's Deli, this restaurant served pizza made from "Minnie's secret family recipes". It was also known as Minnie Mia's Pizzeria.
Planet Hollywood: Opened December 18, 1994. Later renovated and called Planet Hollywood Observatory.
Rainforest Cafe: Opened in the summer of 1996.
This is an unofficial fan site that is not affiliated with the Walt Disney Company or Disney theme parks. All copyrights acknowledged. Please respect the work I put into compiling both existing and my own information on this site by not linking to any text or pictures without crediting that they were located on this site.
See ya real soon!