Adventureland Shops and Restaurants
Please Help Walt Dated World
You can help support the Walt Dated World website in several different ways. Subscribe to and continue to watch the Walt Dated World YouTube channel, contribute via any PayPal button on the site or shop using the Amazon search box at the bottom of each page. Proceeds fund the continued operation of the site. Thank you!
SHOPS
Colonel Hathi's: This store featured "Polynesian decorative gifts". It later sold island and surf apparel. This store was also known as Colonel Hathi's Safari Club. This was the place to go if you wanted to buy sunglasses, wind chimes, shark tooth necklaces and straw handbags.
The Elephant's Trunk/Elephant Tales: The Elephant's Trunk became the new name for the combined Magic Carpet and Oriental Imports stores starting in April of 1987. The store was later known as Elephant Tales. The shop became the Agrabah Bazaar on December 15, 2000.
House of Treasure:
It used to sell pirate items. It later was closed off and the merchandise moved out into the already-crowded bazaar area. At one point fitting rooms were inside the old store area and it was later home to The Pirates League. For coins sold at the store, see the
Caribbean Arcade
section.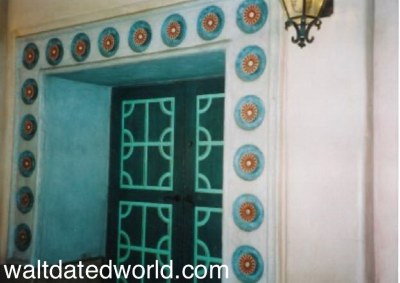 Crow's Nest: This was the place to pick up cameras, film and accessories. It was also a Photo Express drop-off point.
The Golden Galleon: This shop opened in early 1974. It sold nautical items such as globes, brass cannons, ship wheels and spyglasses. It also carried authentic scrimshaw and ship-in-a-bottle art. It later sold casual apparel and shoes.
La Princesa de Cristal: This was another shop that opened in 1974 shortly after the pirates arrived in Adventureland. It featured glass cutting, blowing and engraving.
Laffite's Portrait Deck: You could have a swashbuckling pirate photo taken here. It was later sponsored by Fototoons.
The Magic Carpet: It sold items from the Middle East and India, such as leather items, jewelry and brassware. In April of 1987 it was combined with Oriental Imports and became The Elephant's Truck and after that Elephant Tales. In December of 2000, this shop became Agrabah Bazaar.
Oriental Imports, Ltd.: It featured Far East imports, such as satin change purses, kimonos, straw boxes and cloisonne jewelry. In April of 1987 it was combined with The Magic Carpet and became The Elephant's Truck and after that Elephant Tales. In December of 2000, this shop became Agrabah Bazaar.
Pirate's Bazaar: The location sold candy, snacks, hats and flowers. It was later called Plaza Del Sol Caribe.
Tiki Tropic Shop: This shop carried Hawaiian apparel. It later sold swimwear.
Tropic Toppers: This store featured straw hats and purses.
RESTAURANTS
Adventureland Veranda: This was an Opening Day restaurant and originally featured fried chicken and hot sandwiches. On October 5, 1977, Kikkoman became the sponsor and the fare included hamburgers with teriyaki sauce and a pineapple ring, complete with French fries and raisons. You could also get a "Hawaiian Hot Dog" with sweet and sour sauce for $1.35. Dessert included items such as Key lime and pecan pie, apple turnovers and banana nut rolls. The restaurant later put more emphasis on beef and chicken dishes. The Veranda closed in 1994. After the area stopped serving food, it was still occasionally used for special events but not for food service. It had been used in the past as a photo location during Mickey's Very Merry Christmas Party and served as a meet and greet area for Tinkerbell and her Pixie friends before becoming another restaurant called Jungle Navigation Co., Ltd. Skipper Canteen on December 16, 2015.
Aloha Isle Refreshments: Formerly known as the Veranda Juice bar, this Dole-sponsored stand opened in 1982. It used to serve sub sandwiches along with pineapple offerings. This spot later switched spots with the Sunshine Tree Terrace on March 12, 2015 and became part of the Sunshine Tree Pavilion.
El Pirata Y El Perico Restaurante: This restaurant was renamed Tortuga Tavern on February 6, 2011 to match the theme to the updated Pirates of the Caribbean attraction and Captain Jack Sparrow show. It was often only open seasonally and featured food such as ham and cheese sandwiches, hot dogs, burritos, soft pretzels, brownies and ice cream.
Veranda Juice Bar: This area sold tropical punch and snacks. In 1982 it became known as Aloha Isle Refreshments. Aloha Isle switched spots with the Sunshine Tree Terrace on March 12, 2015 and became part of the Sunshine Pavilion.
This is an unofficial fan site that is not affiliated with the Walt Disney Company or Disney theme parks. All copyrights acknowledged. Please respect the work I put into compiling both existing and my own information on this site by not linking to any text or pictures without crediting that they were located on this site.
See ya real soon!