King Stefan's Banquet Hall
Please Help Walt Dated World
You can help support the Walt Dated World website in several different ways. Subscribe to and continue to watch the Walt Dated World YouTube channel, contribute via any PayPal button on the site or shop using the Amazon search box at the bottom of each page. Proceeds fund the continued operation of the site. Thank you!
The most repeated question of all time: Why would Sleeping Beauty's father have at restaurant at Cinderella Castle? In order to rectify this problem, the restaurant was renamed Cinderella's Royal Table on April 28, 1997. During the early years, madrigal singers often provided entertainment during the meals. The lunchtime menu for King Stefan's had salads and casseroles while dinner had prime rib, seafood and chicken. Crepes were the dessert included with the meal and early editions of the Birnbaum guide advised that they were "not going to win any prizes" and advised guests to "spend your calories on a sundae at the Round Table instead."
Sample menu items from King Stefan's Banquet Hall included:
Beef and Barley Soup
Turkey Vegetable Soup
Cinderella Salad
Green Goddess Salad Dressing
Walnut Bread (also served at the Liberty Tree Tavern)
Duchess Quiche
Grilled Fish Dinner
Seafood Brochette
Royal Seafood Newburg
Chicken Divan
Chicken Robin
Poulet Royal
Roast Beef Sandwich
Prime Rib Roast (also served at Papeete Bay Verandah at the Polynesian Village Resort)
The Coachman
Hunter's Stew
Rice Pilaf
Creme de Menthe Crepe (Also known as Crepes Sherwood)
Apple-Blackberry Cobbler
A Cast Member costume from King Stefan's
Matchbook cover from King Stefan's.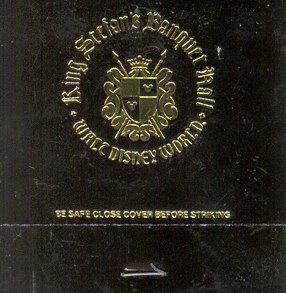 This is an unofficial fan site that is not affiliated with the Walt Disney Company or Disney theme parks. All copyrights acknowledged. Please respect the work I put into compiling both existing and my own information on this site by not linking to any text or pictures without crediting that they were located on this site.
See ya real soon!